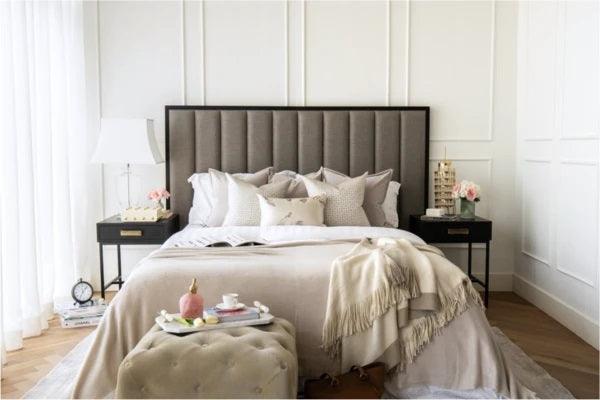 5 Cozy Bedroom Ideas to Stand Out
Could your bedroom be the most important room in your home? When you consider that human beings spend a third of our lives asleep, it's hard to argue otherwise. Here at Knot Home, we've put together some ideas to transform any bedroom into a cozy oasis — a warm, intimate haven where you'll want to retreat at the end of every day. Here's how to make a cute and cozy bedroom for you.
#1 Set the Tone With a Cozy Color Palette 
Your bedroom should be a peaceful, soothing space, lulling you to sleep at the end of a long day, and putting you in a calm and positive frame of mind when you wake up the next morning. So choosing the right colors is super-important when it comes to creating the atmosphere you crave. Vivid prints and clashing colors are not going to induce a state of relaxation, so steer clear of anything too loud. Fire engine red and lime green are out; and as for neon… well, what do you think?
When it comes to cozy bedroom ideas, the key is to choose sophisticated neutrals. We love pale and mid-tone greys, slate blues, and earthy tones of beige and brown — soothing colors that can be found in nature. If this palette puts you in mind of the blues of the ocean, or the multiple greys and browns in the pebbles on the beach, then you're on the right track.
Once you've found your favorite hue, it's time to layer it up. Using different tones of the same color — layering pale grey bedsheets, for example, with darker grey scatter cushions and a soft blanket in an even deeper shade — is a great way to amplify the restful feel of your bedroom. And even white can look cozy if you do it right. An all-white bedroom, if you make sure to add cute detailing and plenty of texture, is perfect if you're aiming for a plush, spa-like vibe.
#2 Soothe Your Spirit with Soft Lighting
How to make you have a cozy bedroom? Banning harsh lighting is a good place to start. Lighting is crucial to setting the ambience in your bedroom, so make sure it's soft and soothing for a peaceful effect.
Lamps or overhead lighting? When it comes to creating soft-focus illumination, lamps have to be the winner every time. We recommend lighting your bedroom with a couple of table lamps, using 15 watt bulbs to give a gentle glow — a high-intensity glare is the last thing you want. If you're stuck with overhead lighting, however, you can definitely soften the effect. A chandelier will diffuse the light to create a more soothing atmosphere; or you can add a dimmer switch to turn down the brightness.
Finally, consider bringing warmth to the rest of your bedroom with some low-key lighting options. There's nothing more charming than a string of fairy lights, or a collection of flameless candles, to add a subtle pool of light.
#3 Embrace Texture with Blankets and Throw Pillows
Introducing piles of soft textures is a failsafe way to amp up the cozy factor in your bedroom. One quick way to do this is to add a tufted headboard to your bed — your room will instantly look more luxe, and you'll find it so much more comfortable when you're sitting up sipping your morning coffee. This is also a great idea for a kid's bedroom, besides a suitable mattress for kids, consider having a bunch of pillows to make it cozier.
Throw blankets are pretty much essential here, and they come in so many different designs and textures: woollen, knitted, herringbone weave, fringed, or fluffy. Drape a throw over the corner of your bed or an armchair to lend instant warmth to your bedroom — it's a great way to make an impact for a very small investment. And once you've built up a collection of gorgeous throws and blankets, don't hide them away. Roll them up and display them in a decorative basket for a chic way to add texture to your bedroom oasis.
Similarly, cushions are your shortcut to creating a comfortable feel in your bedroom: a pile of pillows on your bed, a chair or bench, or even in a corner on the floor, is an invitation to sit back and relax, leaving your stresses and strains at the door. We love a small collection of cushions (odd numbers are good) in different colors and patterns that work well together. At Knot Home, we've put together pillow packs designed to do just that — so you can get one of these bundles of cushions online, and scatter them around with confidence.
#4 Build a Cozy Reading Corner
We've all had the memo about turning off electronic devices at night: all that scrolling, liking and tapping plays havoc with your sleep patterns. So why not use books to help create a cozy bedroom where you can wind down effectively?
If you have the space, there's nothing more luxurious than creating a nook that's just for relaxation. Whether you prefer to read, meditate, or just flick through a magazine, you'll love having a corner dedicated to your comfort — and it's so easy to do. All you need is a table or a floor lamp, a side table, and a decorative (and comfy!) armchair. If your budget runs to it, a hanging swing chair makes a cute option and a standout talking point. Then set it up by a window if you can, to make the most of the natural light.
 Even if you don't have room to create a reading nook, you'll never go wrong placing a few books around your bedroom for added interest without the clutter — if nothing else, they'll remind you to slow down and just take the time to relax with the printed word. Stack a couple of volumes on a side table to steer you away from those screens. Your eyes will thank you!
#5 Create a Restful Ambience with Scent
Of all the rooms in your home, your bedroom is where you spend the most time. So make the most of it by infusing it with beautiful scent that will not only add to the restful and cozy bedroom atmosphere you're trying to create, but might also help you drift off to sleep.
Certain scents are well known for their relaxing properties: Lavender, for example, is the most popular essential oil for helping to promote sleep and reduce anxiety; and the warm, sweet smell of vanilla is an appealing scent that has long been used for relaxation.
A room spray or linen spray in your favorite scent is a great quick fix: Just spritz a little in the air, or onto your bedlinen, for an instant effect. Alternatively, try an essential oil diffuser. Like a natural air freshener, a diffuser will disperse essential oils into the air, while adding a little welcome humidity too. Candles are another lovely way to scent your bedroom — and they do double duty as decorative pieces when you assemble a few together on a side table. Create a display of scented candles in different sizes to enhance the cozy spirit of your bedroom.
It's so easy to create a cozy bedroom with just a few thoughtful touches. We hope you're inspired to explore our cozy bedroom decoration ideas to luxe up the most lived-in room in your home, and maybe even catch a few more z's in the process.