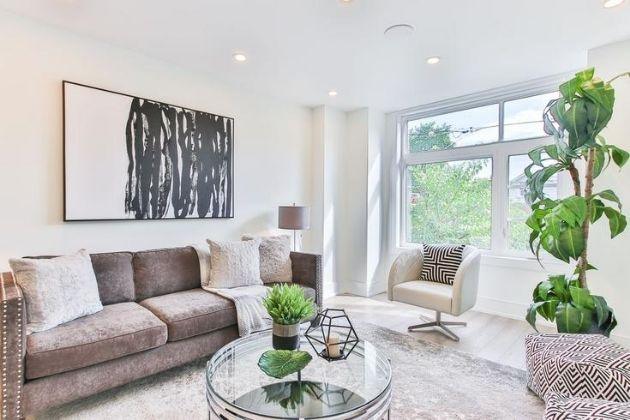 7 Popular Contemporary Living Room Ideas for Your Home
Clean and uncluttered yet warm and welcoming: We all know contemporary interior design when we see it, but how do you create a modern aesthetic in your home? Here at Knot Home, we're always thinking about how to decorate a contemporary living room and we believe that it's all about seeing the big picture. Think about the overall effect and you'll be well on the way toward the living room contemporary design you crave.
Of course, there's no better place to start than in the living room — the most public room in any home, it's where your taste and style shine out. We've put together the latest ideas for how to decorate a living room with an of-the-moment twist, from the best modern style living room furniture to the colors, textures, and styling tricks you need to know to master the contemporary style living room today.
Play with Pattern and Texture
We often think of contemporary style décor as spare and minimal. But while you'll certainly want to keep your contemporary living room free from clutter, that doesn't mean that you'll spend your evenings looking at four bare walls and a neutral carpet. Here's how to make contemporary patterns and textures work for you.
Contrasting Patterns
The great thing about the pattern is that there is no magic formula; we love Architectural Digest's guidance to simply keep your eyes open and work with the patterns you love. But there are a few guidelines to keep in mind. Whether you're working with an array of pillows or statement wall art, it's a great idea to mix up patterns of different scales and stick to a similar color palette for a streamlined look.
Wall Texture that Wows
The texture isn't just about tactile rugs and cushions (although we love those too, of course). Wall texture can also pack a punch in regards to the living room contemporary design. The latest wall texture designs for living rooms include wooden panels, marble tiles, and stone wall treatments, as well as textured paint: the perfect backdrop for mixed media artworks.
Embrace the Art Deco Living Room 
The defining décor of the 1920s and 1930s, Art Deco design style looks as contemporary today as it did back then thanks to its elegant zigzags and glossy color palette. Recreate the glamour in your living room with home décor accessories.
Art Deco Accessories
Streamlined shapes and lacquered textures are essential in the Art Deco living room. Choose sleek home interior accessories like geometric trays or candle holders in black, white, and gold for an Art Deco accent. The shiny, mirrored surfaces associated with the period add glamour while still chiming with today's contemporary décor. 
Decorative Lighting
Sophisticated and functional, it's no wonder that Art Deco lighting looks so good in the modern ideal home. Modern-day flappers will love a gold floor lamp, a colorful blown-glass decorative lamp, or a pair of bedside table lamps with an elegantly curving crystal base that summons up the era.
Take Geometry Class
When contemporary style means saying goodbye to unnecessary decoration, there's one aesthetic that stands out. Here's how to bring geometric shapes and patterns into your living room contemporary design ideas.
Geometric Shapes in Soft Textures
Today's contemporary living room ideas are all about getting rid of the clutter — but clean lines and fuss-free shapes don't mean that your living room has to feel cold and unwelcoming. Balance geometric shapes — cuboid shelving, say, or rectangular sofas — with soft, inviting textures for a warm and cozy feel.
Geometric Print Accessories
Looking to add a burst of strong color and personality to your living room without compromising on its spare, airy quality? A geometric print rug or a geometric piece of wall art will bring bold style to your space without the clutter.
Chill Out in a Contemporary Boho Living Room
Playful and eclectic, a boho-inspired living room is one of our favorite contemporary living room ideas. With its vibrant rugs, tactile cushions, and Moroccan lanterns for a free-spirited vibe, you can't help but relax in a boho style interior. The key is to add just enough of a boho touch to warm up your space without going overboard with the clutter. 
Balancing Color and Texture
If you thought that bohemian style was all about filling up your living room with stuff, then think again. The bohemian modern style living room is all about balancing color and texture so that you keep clean lines that are the hallmark of contemporary style while adding just enough warmth to make it boho. So balance a bare table with a colorful patterned rug, or place an oversized plant next to a sleek leather sofa.
Contemporary Cushion Covers
Bohemian room decor is an invitation to kick off your shoes and relax, so make your space cozy and inviting with a unique bundle of our cushions online. We love bundles of cushions in varying sizes for a boho feel (remember that an odd number of cushions always looks better than an even number), and if you stick to a consistent color palette, they won't look overdone.
Explore the Contemporary Transitional Living Room
The transitional decor is the latest buzzword in interior design circles, but what does it mean when it comes to modern living room ideas for furniture? Quite simply, transitional style mixes elements of traditional design into the contemporary decor to create interiors that are elegant and timeless, with a modern twist.
Classic and Neutral Color
Mixing two different styles can get tricky, so bring a harmonious whole to your transitional living room by decorating in classic, neutral tones. Classic taupes, creams, and greys will create a soothing base so that you can work in some traditional styling elements, such as an ornate carving, without compromising the overall contemporary feel of your living room.
Barely-There Tones
It's no wonder that the style set is flocking to the nude living room. Soft shades of blush, caramel, and cafe au lait across everything from furniture to curtains, walls, and carpets, make it easy to create a restful atmosphere — the ideal canvas for your transitional style mix.
Go Big with Bold Furniture
One of the most important contemporary living room ideas is to focus on the furniture, and on bold, statement pieces in particular. Whether you draw the eye with a generously-proportioned sectional sofa or make a feature of an angular coffee table, here's how to decorate a contemporary living room with the furniture.
Uncluttered Lines
How to make a statement with your modern style living room furniture while keeping a contemporary vibe? Make sure your sofa, armchairs, and occasional tables are stripped of any extra decoration. Skip the intricate carvings and go for bare-leg styles that use their shape and proportion to bring the wow factor instead.
Rich Texture
While we love the visual impact of big and bold furniture, it's important to make your living room feel warm and inviting, too. So make sure to add a mix of rich textures: think geometric sofas upholstered in tactile silk or velvet, or armchairs adorned with fluffy cushions.
The Basics of Decorating in Contemporary Style
Ready to get going? Before you transform your living room into a contemporary decor destination, here's a quick refresher on the basics of contemporary style:
It's all about a sense of space. Let your modern style living room breathe instead of cramming it with things.
Keep it simple with clean lines and elegant silhouettes. Remember, less is more.
Create a feeling of harmony with neutral hues, broken up with bright accents.
Add different textures for a sense of softness and a welcoming atmosphere.
It's easy to master contemporary style when you get the basics right. Apply our contemporary interior design ideas to your furniture, color palette, and accessories and you'll create a sophisticated living space that you'll want to spend time in.