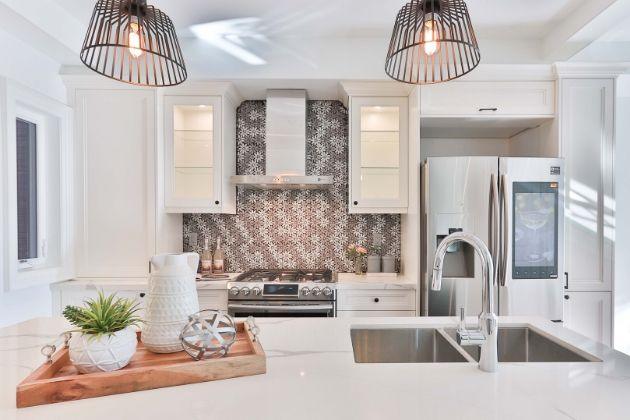 5 Kitchen Décor Ideas: How to Combine Bold Colors in Your Kitchen
Home kitchen décor shouldn't be boring. Kitchens are at the heart of every home, the place where the family gathers at least once a day. So instead of a bland arrangement of inoffensive cupboards and white paint, shouldn't it be the best-looking room in your house? We've been taking a look at kitchen décor ideas to bring your cooking space to life. 
The latest trends in interior design for kitchens are all about vivid colors and standout designer home accessories — eye-catching color combinations and feelgood details that will be a strong contender for your favorite place to hang out. From small kitchen ideas to unique kitchen décor, discover five bold ideas to decorate your kitchen.
Be Bold With Kitchen Paint Colors
Thinking of painting your new kitchen walls a neutral shade of white? Stop right there! While it's easy to reach for the safe option when you don't have a lot of room to play with, kitchen designs for small spaces can incorporate bright colors to fabulous effect. In fact, livening up walls and cabinets with a new paint color is one of our favorite inexpensive kitchen wall decorating ideas: an instant refresh, without having to splurge on new appliances or fittings.
Take a look at some of these beautiful examples from the brighter edges of the paint chart, and welcome to the new bold kitchen.
Blue Kitchen Colors
We were so inspired by House Beautiful's recent round-up of kitchen color ideas, and one particular shade really stood out. Whether you go for the moody dramatics of inky navy, a pop of bright cobalt blue on a kitchen cabinet or a combination of powder blue and pale pistachio, blue is showing up in some of the most aspirational modern homes right now. 
Bold Kitchen with Pale Wood Feature Wall
The kitchen paint colors are not just for walls. We love applying a bright hue to kitchen cabinets while leaving the walls neutral for a cool contrast. A pale wood on the walls softens the effect of even the boldest paint color to give your kitchen décor an easy, comfortable warmth.
Retro Kitchen with Pops of Bright Paint Color
Kitchen colors work best in unexpected combinations — a bit like cooking ingredients, in fact. Retro-style kitchens can benefit from a mix-and-match approach, with contrasting primary colors on cabinets, walls, doors, and shutters (think playful combinations of orange, yellow, and blue) sparking new life into your kitchen.
Introduce Colorful Home Interior Accessories
Kitchen decorating ideas often focus on the smooth running of your kitchen: creating clear workspaces, for example, so that you can move easily between the fridge, the hob, and the worktop. But that's not to say that you should ignore designer home accessories. Decorative lighting and designer vases will add personality to your kitchen, making it a warm and inviting place where you'll want to spend time together.
Decorative Lighting
We all know that lighting can make or break the vibe in your home — and it's something to bear in mind when you're looking at ideas to dress your kitchen. At Knot Home, our unique floor lamps and modern table lamps will add a welcoming pool of light to the forgotten corners of your kitchen, making sure you make the most out of every inch of space.
Decorative Vases
Dinner guests often turn up bearing generous hostess gifts of flowers, so it's a great idea to keep a vase or two to hand in your kitchen. A vase of fresh flowers belongs on every kitchen table, but we also love arranging decorative vases in groups of three, as recommended by Elle Decor magazine. In the kitchen, they'll brighten up a dresser or open wall shelf beautifully.
Get Creative with Kitchen Wall Design
Kitchen wall decor is not simply about choosing a paint color (or two); it's your chance to make a statement with your kitchen theme decoration. Whether you make the most of open shelving, experiment with contrast patterns, or pep things up with kitchen wall tiles, here's how to make your kitchen walls shine.
Open Kitchen Shelving
A run of closed cabinets can make your kitchen feel crowded, particularly if you're working in a small space. So why not open things up with open kitchen shelving instead? When you ditch the doors, you'll create a feeling of light and space, and it's also a great opportunity to splash out on appealing crockery and storage jars. Our tip? Stick to a limited color palette for a harmonious effect.
Contrast Patterns
How to decorate a kitchen with contemporary flair? Consider contrast patterns for an eclectic, modern feel. Some of our favorite kitchen wall ideas feature different patterns across walls and splash backs in chic black and white to bring a touch of drama to every day; or why not mix it up with a piece of wall art?
Kitchen Wall Tiles
Kitchen wall tiles are an essential part of your home's kitchen design strategy, and we love using intricate, vivid patterns to bring your kitchen to life. If you're not sure about a full-on pattern, then you can use individual tiles as an accent to enliven a neutral splash back. And matching your wall and floor tiles is an easy way to pull your whole kitchen decor together.
Transform Your Space with Kitchen Furniture
The kitchen decoration ideas start with the furniture. After all, your kitchen cabinet style — modern, minimal, retro, farmhouse — determines the overall theme of your kitchen decor, and choosing the right furniture is the key to a smooth workflow when you're cooking and prepping. From statement sideboard cabinets to unique kitchen islands, here's how to get started. 
Kitchen Cabinets
Modern kitchen cabinets will set the tone for your space, so have some fun with your kitchen cabinet ideas and think boldly about color. Remember that they don't have to be uniform: You can, for example, simply paint the lower cabinets in bright yellow and leave the rest neutral; or alternate wooden sections with contrasting blocks of color to divide up space.
Kitchen Islands
Looking for a multitasking piece of furniture that will add plenty of interest as well as increasing your workspace and storage? Look no further than the latest kitchen island designs. Choose a freestanding cabinet that blends in with your color scheme, or seek out a small kitchen island in a contrasting color to pack a punch. 
Kitchen Buffets
We love including flexible pieces in kitchen decorating ideas, and buffet furniture ticks every box. You'll find so many ways to work a buffet cabinet into your kitchen décor, but we particularly appreciate the chance to show off your kitchen decorating accessories: a sideboard is a perfect place to display a statement vase or a bookend for your cookbooks.
Bring the Outside in with Flowers and Herb Pots
No backyard? No problem. You can bring nature indoors with our kitchen plant ideas. Not only will a kitchen garden add soothing greens and a lively burst of color to your kitchen, but their herby scent will create a sense of wellbeing, too. 
Small Kitchen Gardens
Say goodbye to bland dishes; you'll always have fresh parsley, chives, and rosemary close by when you keep an indoor herb garden. Country Living has some handy tips on how to build a windowsill herb garden: Basil and rosemary, for example, thrive by a sunny window. 
Wall Mounted Herb Pot Planters
One of our favorite kitchen décor ideas, a wall-mounted planter is a real space saver. Run out of room on your worktop? You can still get green-fingered. Fix your pots to the wall, or choose macramé hanging baskets instead.
You don't have to be a keen cook to find yourself spending a lot of time in your kitchen — and it's easy to make the busiest room in the house more inviting with just a few design-savvy changes. When you get bold with color and experiment with patterns, you'll transform your cooking and dining experience and create a welcoming space for the whole family.