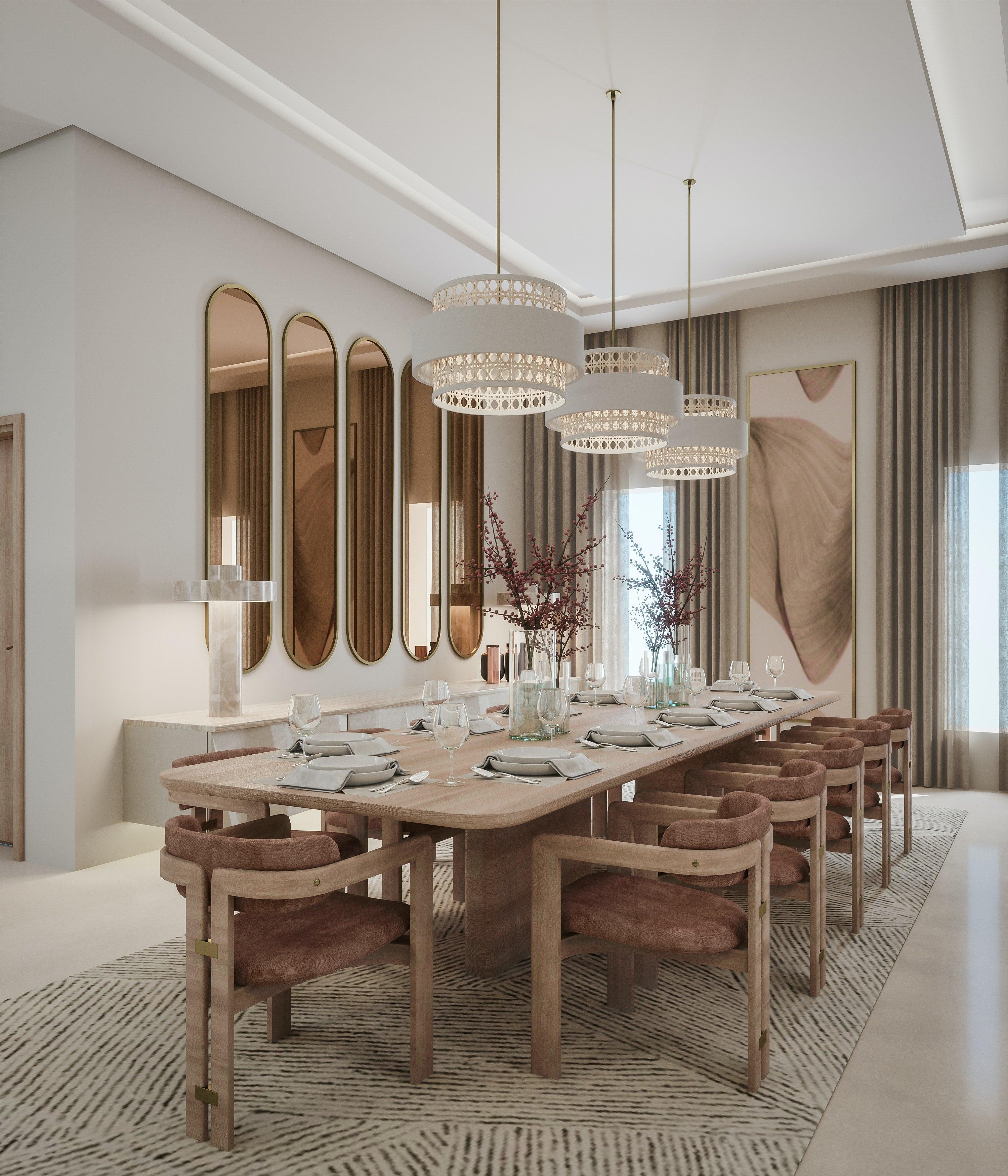 7 Dining Room Décor Tips to Create Elegant & Classic Interior
While your living room is slowly becoming the heart of your home, it's your dining room where you'll most likely be entertaining guests. Obviously, you want to not only show off your skills in the kitchen but your sense of style as well. And nothing impresses more than a delicious meal served in an elegant dining room. While we can't help you learn how to cook a mouthwatering dish, we can certainly give you tips on dining room décor with an elegant and classic design in mind.
Keep in mind that creating or upgrading to an elegant dining room is not limited to those who can afford luxury furniture and décor. Our tips can easily be followed by everyone, no matter what budget they might have.
GO WITH AN OPEN-PLAN DESIGN
Before you get started on the decorating, you should think about implementing an
open-plan design
. An open-plan interior not only ensures a seamless transition from one area of your house to another, it also helps you create a more unified look across the house. Which means that if you already have a classy-looking living room, it'll be easier to up the elegance factor of your dining room. Another huge advantage to an open-plan design is that it helps you let more natural light in. Plus, it makes your space look larger. Both of which will help elevate the look and feel of your dining room.
PLAY WITH COLOR
When people think of an elegant dining room décor, they tend to picture a neutral color room with some classic home decorations. And there's absolutely nothing wrong with that. In fact, we have some dining room decoration ideas that fall under that category. But we also have other ideas that you might not originally consider. Feel free to play around with our tips to help you achieve the timeless interior that's suitable to your lifestyle.
Creamy Patterns
Soft hues can easily lend elegance to the atmosphere in your dining room décor. Paired with classic style decorations such as delicate furnishings as well as golden accents, then you've got yourself a beautiful-looking dining room. One thing we can say about a neutral palette is that it never gets old. If you want to create a dining room that's classy AND would stand the testament of time, then you definitely should go for it.
Of course, a timeless design doesn't mean you should only stick to neutral colors. A dark accent that contrasts with the cream-colored surroundings can breathe personality into the room. A good example would be to add splashes of color through your decorative lighting or curtains. Maybe some artwork. Even a dark wood table can create that dramatic effect. Just make sure that these splashes of color don't end up overwhelming the room.
Bold and Dramatic Colors
If soft, understated hues and subtlety are not your wheelhouse, then maybe going with something dramatic or bold would suit your personality better. According to some interior designers, navy is a color that easily upgrades your dining room from plain to elegant. That's not to say that navy should be the only dramatic color that you can choose for your dining room. Dark greens, turquoise, dark grey, red, etc. You can even go with the most dramatic color ever - black. With some gold accents and trimmings, your dining room has never looked so decadent and expensive. Just keep in mind that you choose colors that will play off each other.
PAIR DARK WALLS WITH LIGHT TRIM
Contrasting Paint in a Sophisticated Way
When you decorate dining rooms with dark walls, adding a bit of contrast such as a light trim can turn your space into a sophisticated dining room. A light trim is perfect for adding elegance to a classic or traditional dining room décor. While the dark walls will make the room look cozy and warm, the light trim can also make it feel lighter and make your windows pop with brightness.
Install a Statement Overhead Light Fixture
A statement overhead light fixture - a.k.a. chandelier - can brighten the darkest of rooms. Even if you have light-colored walls, a statement light fixture can easily elevate your space. It can draw the eye and help set the overall tone of your dining room.
USE ELEGANT ART AND DECORATIVE ELEMENTS
You don't need to overhaul your entire dining room to make it look better. You can instantly make a room stylish and inviting by adding designer home accessories in your space.
Decorative Cushion Covers
Why settle for boring when you can make a statement with certain pieces of dining room furniture? There are several ways to do this, one of which is by using decorative cushion covers. If you have wooden or plastic chairs and/or benches, then adding cushions with vibrant colors and/or patterns can liven up the space. As an added bonus, you can ensure that your family and guests are seated comfortably throughout the meal. Of course, if you already have upholstered dining room chairs, maybe you can do a little mix and match - either the patterns or the chairs themselves.
Decorative Vases
Decorative vases are amazing pieces because they can easily make a room look more interesting. You can use it to add a bright accent. You can get a crystal one that can serve as a centerpiece, adding subtle elegance to the room. You can add a floor vase beside a wooden cabinet or a couple on top of a side table. Doing so will allow you to draw the eyes towards your elegant furniture. There are so many things you can do with vases. You can choose them based on style such as metal or glass for a modern interior. If your space looks a bit flat, you can add vases that have a similar color to the walls of your dining room to add texture and volume.
Crown Molding
The devil is in the details. And when we say details, we mean crown molding. Not only will adding this to your dining room make it look complete, it will create a more elegant appearance. Another bonus to this classic dining room décor is the fact that it's affordable, regardless of your budget. Just make sure to choose the widest trim that fits your set budget.
Wall Art
You can make your dining room elegant by adding a piece of wall art or more. Doing this can easily dress up a plain wall, making it look more stylish. You can opt for a large chalkboard if you're aiming for a more modern dining space. You can use black and white family photographs. You can create a gallery wall - a mix and match of various artworks - or even an accent wall.
USE CLASSIC STYLE FURNITURE
If most people are asked how to decorate a dining room and make it look elegant, a lot of their dining room décor ideas would probably involve classic style furniture. While you can opt for more modern furnishings to create an elegant dining room, we'll stick to something more foolproof.
Classic Style Table and Chairs
If you want to make your dining room look stylish, you'll need to consider the furnishings inside the room, specifically the dining table and chairs. If you didn't know it yet, the dining room table is the focal point of this space. As such, you'll need to make sure that it's worthy of being the centerpiece. Choose a table that has a neutral style that you like. This is not a piece of furniture that you can easily replace. So, make sure that you choose something that can blend in well should you change some of the furniture surrounding it in the future (e.g. chairs). In addition, look for one that uses natural materials such as wood or glass. As for the chairs, there's no need to purchase new ones. You can add cushions to make them look more stylish. You can have them reupholstered with fabric that features a more elegant print.
Ornate Mirrors
You don't have to stick with wall art if that's not your thing. You can create a gallery of ornate mirrors on one wall of your dining room. Play around with their shape, style, and color, so you can figure out which configuration works well with your style. Not only will this add a touch of class in your space, it will also add depth to the room and increase the total light output within the space.
Longcase Clocks
Another piece of elegant home decor is the grandfather clock. This statement piece is definitely a classic and would easily add style to your dining space. But you don't have to stick with a clock if you don't have to. You can choose to repurpose a longcase clock into a storage area for your dinnerware and substitute the clock face with a mirror. Not only will it make your dining room elegant, it will also become a conversation piece among guests.
LET THE LIGHT IN
Lighting
A room can't look elegant if it's dark and dingy. You need to take advantage of natural light and let it in. But you also can use lighting to make your space look brighter. More importantly, you can choose decorative lighting to create a traditional interior. Some light fixtures that you can play around with include highly decorated sconces, chandeliers, and even floor lamps to increase the elegance of your dining room. You don't even have to splurge a lot on your lighting. Check out flea markets and second-hand stores for unique finds. There's nothing like a statement lighting fixture to help boost the elegance of a room.
Window Treatments
The right window treatments can enhance the look and feel of your dining room. Full-length, heavy-lined drapes with matching valances or cornices can help create that classic interior you're aiming for. Not only will the floor-to-ceiling curtains make your sophisticated dining room look better, it will also make it appear bigger and more spacious. Couple it with sheer curtains, so you can let the light in while still maintaining a bit of privacy.
KEEP THINGS CLEAN
Colors
A little color will do your dining room design a lot of good. But make sure that you don't go crazy with it. Too much can make your room look chaotic instead of cohesive. In addition, don't stick with the current color trends when it comes to big ticket items such as furniture, wallpaper, and paint. Instead, limit the trendy colors to small pieces like table lamps, vases, pillows, and other accent pieces. It'll be much easier to switch these items out when the colors are no longer trendy than to go through another complete room makeover.
Clutter
Don't go overboard on the décor. If you want a timeless interior, make sure that there's always room for you to move around the space. When your pieces are crowding each other and your surfaces are filled with decorative pieces, they won't be able to enrich your space. Instead, the room will look cluttered, messy - in short, anything BUT elegant. Strike a balance between your statement pieces that reinforce the classic style and space. You want a clean, simple design with a few highlights within. Give yourself and your furniture room to breathe. An elegant dining room cannot be forced; it has to look natural and organized.
Conclusion
As you can see, elegance is not limited to classic and timeless decorating ideas. You can opt for a rustic elegant French farmhouse interior or go with a more modern style with metallic accents. There's no limit to what you can do to make your space stylish and comfortable. Our dining room decorating ideas and tips are "designed" to help you find your own way, so that you can give your room the makeover it needs.