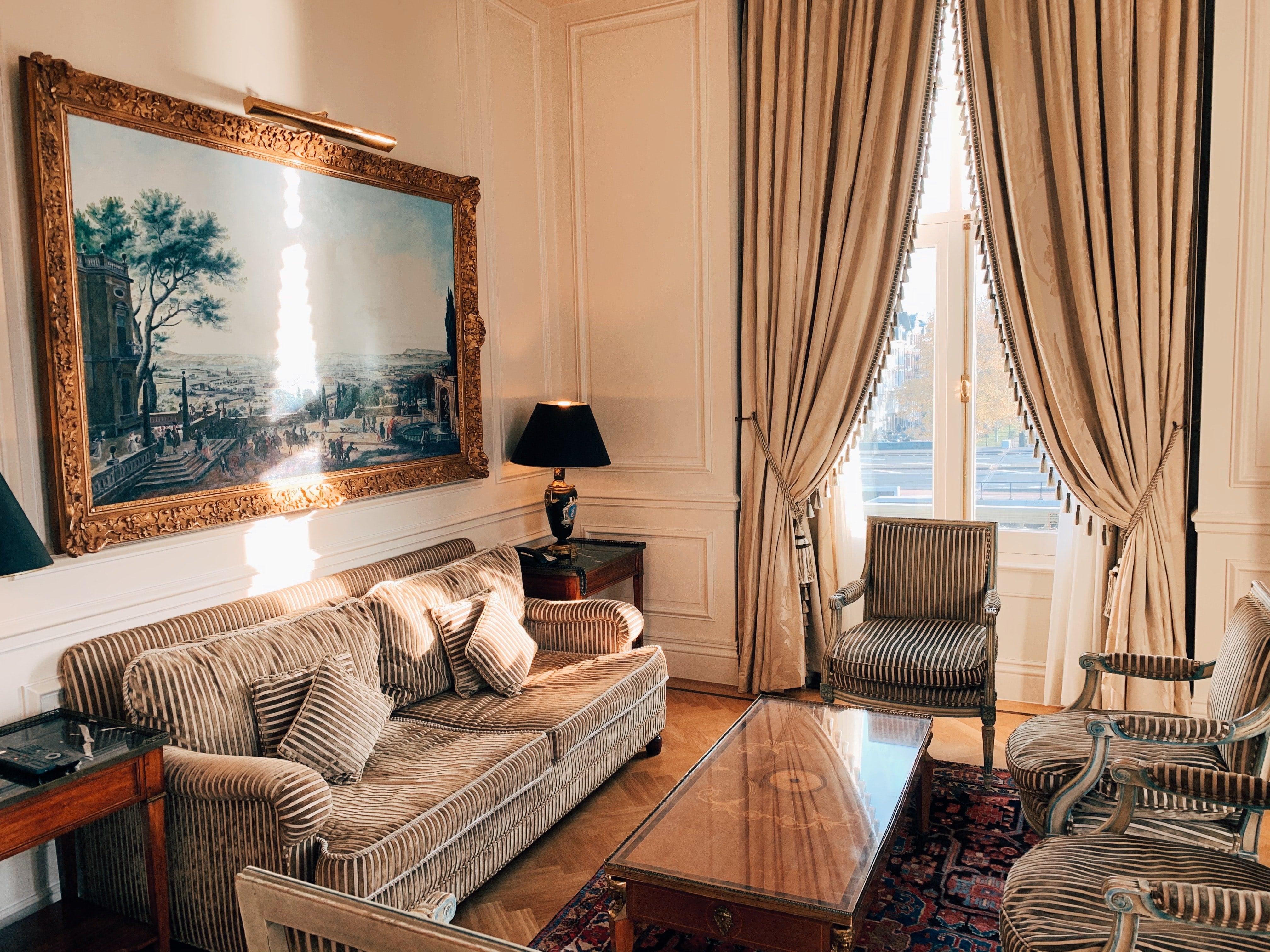 7 Best Practices to Get a Traditional Living Room
It's easy to see why anyone would want to have a traditional living room in their home. The style is classic, refined, and exudes a certain charm. More importantly, it signifies comfort, warmth, and welcome. Of course, the fact that this style is considered timeless and will always be in style doesn't hurt either. If you're looking to learn how to decorate a traditional living room or just get traditional interior design ideas for living rooms, then you've come to the right place. We collected the 7 best practices of interior designers in creating a traditional living room.
Create a Plan
Start With the Architectural Framework
Before filling your space with traditional living room decor, you need to check the architectural features of your home. Does it have crown molding or wainscoting? Does it feature a fireplace or arched doorways? What about cabinets and bookshelves? Knowing what your current space offers can help you select the right color and decor that will go well with the features. For example, if you have a fireplace, you can use it as a focal point of your traditional living room design and work from there. Another example is dark-stained floors. You can choose cream-colored furniture to accent your floors. It's important that you work with what you've got, so that you don't make changes that will clash with the bones of your space.
Decide on the Layout
The layout of a traditional room generally consists of a sofa, matching armchairs, a coffee table, and a fireplace. Some traditional living room designs include more than one sofa, others include side tables and lamps. Of course, you can add more elements as long as your space allows. Take note that a traditional style living room features a symmetrical layout. In addition to this, your layout should also take into consideration how you plan to use the space.
Consider your Personal Style
While your choices may be rooted in the traditional living room decorating ideas you see online, don't forget to include pieces that express your personality and lifestyle.
Decide Between Formal or Casual
There are so many interpretations of what a traditional style living room must look like. However, these interpretations can generally be categorized under two main schemes - formal and casual. As we've already mentioned, your choice will be determined by your personality and lifestyle. A formal scheme usually includes velvet fabrics, tufted sofas, ornate frames, curved lines, claw feet, and carved details. Casual elegance, on the other hand, involves plenty of cushions, strips, florals, and very comfy sofas (e.g. overstuffed sofas) and chairs.
Consider How to Add Your Personal Touch
Aside from considering a theme that's more in line with your personal life, you also need to find a way to add your personal touch to traditional living room décor. This could be done through the artwork you display, the color palette you choose, the statement piece, etc. Don't worry too much if your personal touch is something updated or modern. Add what you love and the rest will follow.
Get On Board With Symmetry and Uniformity
Symmetry is one of the most important elements of traditional living room décor. There are different ways you can achieve this.
Use Perfect Pairings
The most common way to achieve symmetry is to use perfect pairings. What does this mean? You can place two identical side tables at each end of the sofa, two identical floor lamps, or two traditional wall mirrors. The key to achieve perfect pairings is to imagine an invisible line in the middle of your room. Each side should be a mirror copy of the other; what's on one side should also be found on the other. With perfect pairings, you create a well-balanced space that can be used to draw attention to the focal point in the room such as the fireplace or the coffee table.
Proportional Furniture
For some people, a perfectly symmetrical room is too stiff; it can seem like it's straight out of a magazine cover and not at all inviting for lounging around. Fortunately, you don't have to be too exact with your décor as long as your furniture layout is symmetrical. This means that you can have two traditional style furniture pieces that are completely different from one another but have the same visual weight. One good example is having two different armchairs opposite each other but consisting of the same size.
Everything should Match
With the traditional style, there isn't much room for eclectic pieces. Everything must match. This means that all of the traditional home furniture must come from the same collection or time period. The fabrics and upholstery must also match in terms of color and theme. The same goes for accessories.
Coordinating Upholstery and Fabrics
It's important to note that while you must match upholstery and fabrics when choosing your traditional living room furniture, that doesn't mean that you can't incorporate different textures. For example, you can choose a set of coordinating upholstered chairs but you can also choose accent pillows to complement them as well as add layers to the room. Just keep in mind that you use complementary tones or varying shades of the same color to stay within the boundaries of traditional design.
Designer Home Accessories
As we've already mentioned, you should choose designer home accessories that match your traditional living room furniture. Decorative cushion covers can breathe life into a stuffy room, but their colors need to be muted, not overly bright. You can choose to use bold patterns to create a more "fun" atmosphere, but use them sparingly as there's a chance that you'll take the design into a different direction altogether.
Window treatments and rugs are two accessories that can't be overlooked if you're going for a traditional living room. You can't have bare windows in a traditional style home. Rugs are not only about adding comfort into the room. They can add color and tie together the different elements in the room.
Decorative lighting is an accessory you should consider when furnishing your living room. Statement light fixtures can easily transform your regular living room into one with a traditional design. Of course, you will still need to consider the shape, size, design, color, and material of the light fixture; make sure that it ties together with the rest of the room.
Pick a Color Scheme
Subdued and Synchronized Colors
When it comes to traditional design, bright colors and jewel tones are a no-no. Instead, you should stick to neutral or earthy colors which can help promote a soothing, comfortable atmosphere. You can incorporate other colors such as yellow, green, and blue as long as you use muted tones or the lightest shades. In addition to using subdued colors, you need to make sure that you use a synchronized color palette to ensure uniformity and cohesiveness. In short, colour mixing is allowed as long as the paint colors for your living room are either part of the same color palette or are complementary.
Complex Patterns
While traditional home colors are subdued or muted, patterns can be bold and complex. You can use floral patterns, stripes, and chinoiserie prints. You can have patterns in your upholstered furniture, pillows, and rugs. You can even use patterns in your wall paper.
Incorporate Traditional Elements
A traditional living room features beautiful finishing touches such as crown molding, cornices, trim, and wood paneling. These can add elegance to any room.
Wall Paneling
There's nothing more traditional than panelled walls. The rich color of the wood along with the detailed millwork can elevate the look of any room. Not only that, you can use the panelled walls to create additional insulation inside your home. It can even cover walls that are uneven.
Crown Molding
Like panelled walls, crown molding is not just about adding elegance to your living room. You can also use it to cover imperfections. The beauty of crown molding is that there are different styles, so you can choose the one that suits your living room best.
Use Classic Materials
While wood is the material that is most commonly used in traditional design, there are other types of classic materials that you can use in your traditional living room.
Metal
Metal can serve as an accent in a traditional living room. You can have a classic metal table lamp or floor lamps. You can also consider a metal chandelier. If you are using metals in your living room, make sure to stick with brass, satin nickel, bronze, and brushed pewter.
Brick and Stone
Brick and stone are both classic materials. You can feature brick or stone in your fireplace. Brick can be used as an accent wall. Stone can also be used on walls to provide more texture as well as add a bit of nature in the room.
Glass
Glass is easy enough to incorporate in your traditional living room. You can have a glass coffee table or side table; these can add a little bit of contrast with the traditional tone of the room.
Conclusion
A quick search online will show you numerous traditional living room design ideas. But implementation is a different thing altogether. That doesn't mean that transforming your space into one is going to be difficult. These tips and suggestions we've given you should help you create the elegant and sophisticated space you've been dreaming of, from floor to ceiling.