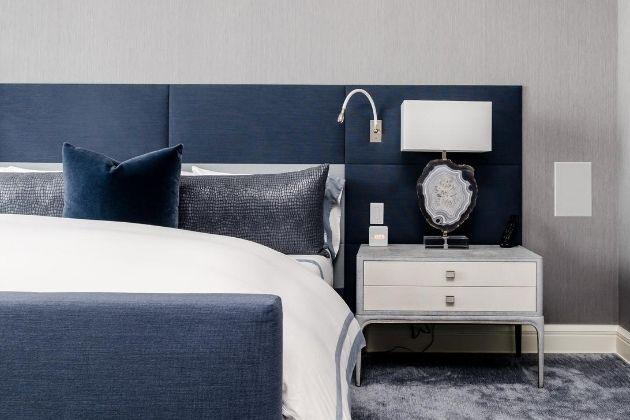 5 Decorating Ideas for Couples to Have Romantic Bedroom Setups
Looking to create a romantic bedroom setup in your home? There's more to it than simply scattering rose petals everywhere, but it's easy to dial up the romance without overdosing on frills and florals (unless, of course, that happens to be your thing).
The latest romantic bedroom designs for couples set the mood in a modern way — from contemporary color palettes that conjure up a romantic atmosphere to lighting that creates a magical glow. At Knot Home, we've put together some romantic bedroom decorating ideas for couples that focus on the elements that matter: textures, details, and a sense of luxury. Here's how to decorate a couple's bedroom in five simple steps.
Splash Out on Ornate Ceiling Fixtures
When we think of romantic bedroom lighting, most of us think of table lamps. But you're missing an opportunity if you don't consider floor lamps, or a ceiling light fixture too. A standout ceiling light is one of our favorite simple bedroom ideas for couples: a dramatic focal point that also casts a beautiful glow. Do make sure, though, that you install a dimmer switch.
Ramp Up the Opulence with a Gold Colored Chandelier
Elle Decor's roundup of bedroom lighting ideas is packed with gorgeous chandeliers, and no wonder — as well as making a dramatic centerpiece to your bedroom decorations, this classic lighting style makes any space look bigger. We particularly love a gold-toned chandelier to add an ornate touch.
Make It Intimate with Colorful Lights
Bright lights might be perfect for your home office — but over-illumination will kill any thoughts of romance stone dead. That's where color can help. Tone down the brightness of your bedroom with a warm shade like pink or soft purple for a more flattering glow.
Create a Shadow Play With a Moroccan Lantern
With its lush colors and piles of cushions, Moroccan décor is one of the most popular bedroom theme ideas for couples. But a Moroccan lantern is effective in a more minimal décor scheme too. With intricately-patterned cut-outs that cast dancing shadows, a metal lamp will create a sense of mystery and romance.
Indulge in Home Interior Accessories
Contemporary, minimalist, or shabby chic? Whatever your décor style, there's one thing that all beautiful romantic bedrooms for couples have in common: designer home accessories. From decorative lighting to piles of plush cushions, here's how to decorate your bedroom romantically with a few well-chosen accents.
A Cloud of Cushions
Soft textures are key to creating a romantic vibe, and extra pillows will work wonders. The trick is to mix things up. An assortment of cushion covers in different sizes, shapes, and prints will add a luxurious feel to any bed — a great way to create a romantic bedroom setup on a budget. At Knot Home, we've made it easy with our pillow bundles in harmonious color palettes.
Decorative Table Lighting for Every Theme
When you're creating bedroom theme ideas for couples, it's the details that count. Designer table lighting is a great way to pull your décor together, whether it's with a bold accent color that complements your overall color scheme, or an ornate crystal base that creates a regal feel.  
Spotlight on Flattering Floor Lighting
It's no wonder that romantic bedroom ideas for couples often start with lighting. Layered lighting is all about building up a soft, flattering effect through different pools of light — so much more inviting than a single, harsh, overhead lamp. From modern tripod-base designs to double-shaded lamps for a softer effect, our floor light picks will create an intriguing addition to your bedroom.
Decorative Vases with a Designer Touch
One of our favorite home interior accessories, a statement decorative vase will elevate any bedroom. After all, whether it's a chic single stem or a lush bouquet, there's nothing more romantic than flowers.
Curate a Comforting Color Palette
Wondering what color to choose for your romantic bedroom design? You're not alone. Simply painting the walls can change the atmosphere of a space, which is why room decoration ideas for couples are often built around a sultry color palette. We've put together a harmony of gorgeous hues that will create a sensual vibe all year round.
Plum, Purple, and Lavender
Rich purple is high on any list of romantic bedroom colors. The shade of kings and queens throughout history, this royal color will make any couple feel special. Warm it up with a subtle plum tone, or create a fresh feel by using lavender in your wall color combination. 
Deep Red
We couldn't talk about paint colors for bedrooms without paying homage to vivid red. From deep ruby to dark crimson and bright scarlet, red accents will add a passionate, fiery touch to your color scheme — and it pairs particularly well with gold for a luxury feel. 
Caramel Tones
If you're seeking wall paint ideas, you can't go wrong with subtle shades of caramel. Earthy browns have a quiet allure, creating a soothing atmosphere with plenty of warmth, and they'll make the perfect backdrop for well-chosen dramatic accessories.
Powder Blue and White
Powder blue and white are classic bedroom color ideas for couples. Reminiscent of grand country houses, a fresh combination of blue and white speaks of lazy Sunday mornings and roll-top baths. Make every weekend feel like a mini-break when you add these shades to your couple's bedroom decoration.
Romantic Patterns
A comforting color scheme is about more than choosing paint colors for the bedroom; you might want to include some wall painting designs to break things up too. Whether it's a panel of printed wallpaper or a paint effect on a statement wall, consider oversized blooms, spriggy florals, or classic toile de Jouy for a soft, romantic effect.
Set the Scene with Romantic Bedding
For romantic bedroom decorating ideas, look no further than the centerpiece of your room; we're talking, of course, about your bedding. Even the most ardent minimalists might be seduced by these welcoming arrangements of ruffles, pillows, and throws.
Create a Cocoon
Is there anything more romantic than your own private cocoon? Seal yourself off from the world in a cozy space piled with fluffy pillows, tactile bed runners, and opulent throws in a mix of colors and textures. 
Hang a Canopy
Even the most romantic bed settings will become even more magical when you add a canopy. A full canopy bed is one of the most popular romantic bedroom ideas for married couples, but you could even make your own. We love The Spruce's suggestion of suspending diaphanous fabric from an embroidery hoop above your bed.
Go Maximalist with a Statement Headboard
How can couples decorate their bedroom? One of the most effective romantic bed ideas is to add a statement headboard — and the more opulent, the better. Think plush textures like velvet or satin and plenty of lavish detail. 
Get Flirty with a Ruffled Bed Skirt
Bedroom romance ideas don't have to include frills. But let's face it, a ruffled bed skirt is hard to resist if you're looking to add a flirty, playful feel to your bedroom. It makes the finishing touch to a romantic bedding arrangement.
Make It Moody
You don't need a large space to put our romantic bedroom ideas for couples into practice. It's all about creating the right mood, and we've got plenty of cute ideas for small bedrooms. From cozy fireplaces to dramatic plants, here's how to transform any room into a love-themed romantic bedroom.
Supersize Your Plants
Ramp up the drama with oversized plants to bring a lush feel to your bedroom. Indoor trees and house plants of any size will make romantic room decorations, but you'll love the effect, even more, when you scale up with larger plants and flowers.
Get Cozy by the Fire
With its evocative crackle and beautiful scent of firewood, a fireplace appeals to all the senses. Even the most simple bedroom designs for couples look cozier if you can install a fireplace to conjure up dreams of a dreamy log cabin away from it all.
Lacquer Your Walls
Bedroom decoration for couples hinges on a sense of opulence — and lacquer walls are a great way to bring glamour. Choose a high-shine, glossy paint in a statement color for instant impact and an unmistakable sexy feel.
Something Old, Something New
The best romantic bedroom interiors use a mix of influences, effortlessly blending contemporary style with room decoration ideas from days gone by. Whether you add romantic printed bedding to a modern bed frame or antique-style accents to a minimalist bedroom design, even small bedroom designs for couples can benefit from a few thoughtful retro touches.
Creating a romantic bedroom setup is a fabulous excuse to indulge in ornate accessories. But the most important thing is the overall vibe, so think about how everything works together. If you feel more romantic the moment you step through the bedroom door, then you'll know you've got it right.