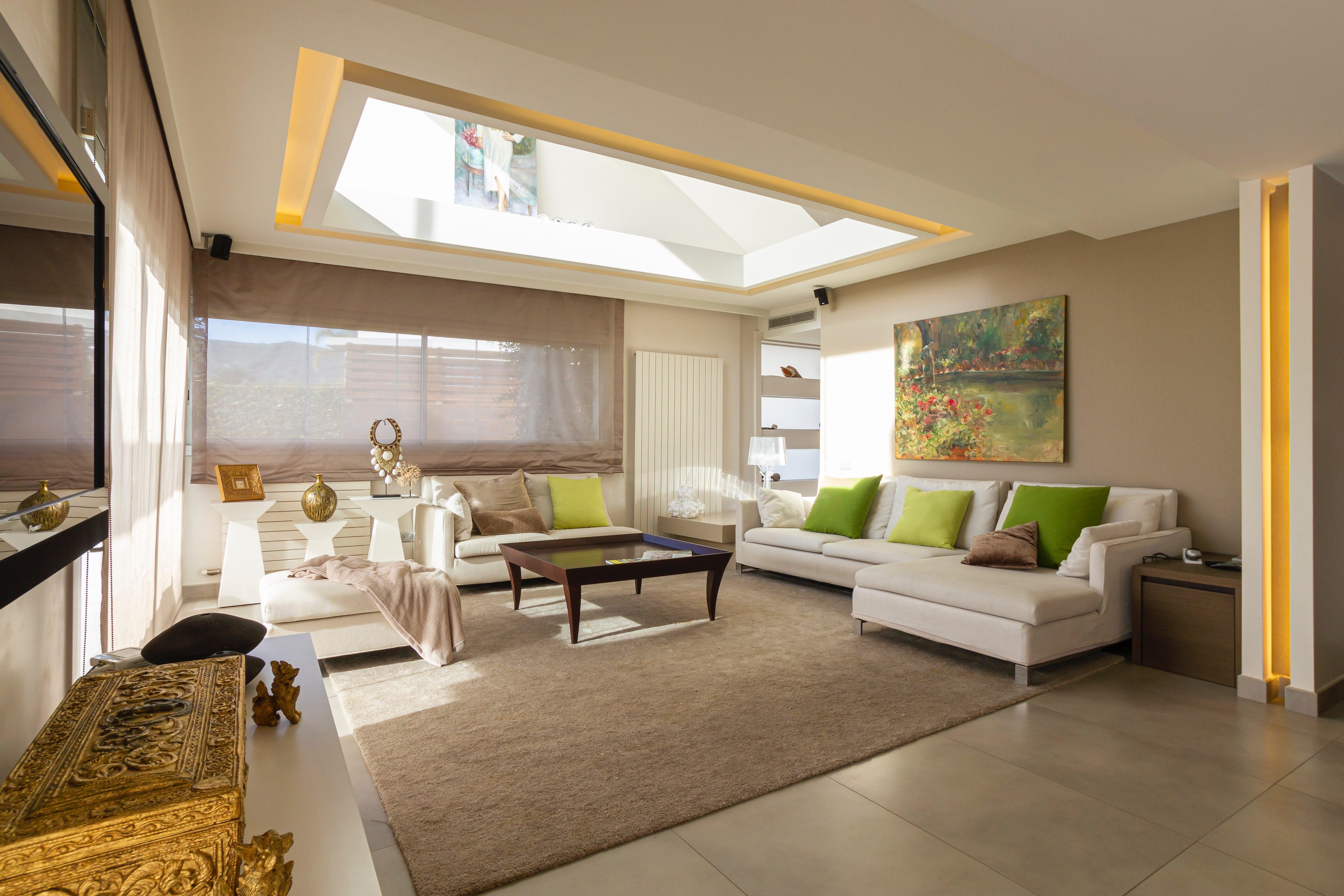 5 Tips on Living Room Design for Fresh and Modern Space
Your bedroom may be your safe haven, but your living room is inarguably the heart of your home. It's where you entertain family and friends, spend your downtime, work or study, and even where you exercise. It's now the most multi-functional room inside your home. So, it's safe to say that you want your living room design to not only look good but also serve a purpose. Well, we've got that covered. Below are tips and tricks on how to decorate a living room with function and form in mind.
Rearrange Your Space
There are plenty of ways to upgrade your current living room design if you can't afford to do a complete makeover. You may already have everything you need in terms of living room furniture. You just need to update the arrangement.
Move Your Items Around
Ask a friend to help you rearrange the pieces in the room. Think about how you want to utilize the space. Will you be hanging out in the room with friends, conversing and watching movies? What arrangement will be ideal for how you want to live in this room? If you're unsure about how to arrange your furniture, check out living room design and lounge furniture ideas for inspiration.
Utilize Awkward Architectural Spaces
If your space has awkward room proportions, you may have opted to leave the space unused. Don't. Instead, use it to your advantage. You can put bulky furniture pieces in that space such as a media center. If you have a small-scale sofa or something similar, you can fit it in this space and turn it into a reading nook.
Shop Around The House
There's no reason to get new designer home accessories for your living room. You can "shop" around your house to find pieces that would bring new life to your space. For example, your coffee table. This is the centerpiece of your living room which means a minor update in its appearance can easily freshen up the look of the space. You can search your home for accessories that can tie in with the color scheme of the room. Maybe some ornamental candle holders and a vase artfully arranged in a tray. How about displaying some of your favorite books or travel mementos on top of the table? Or you can place fresh flowers that bring a pop of color into the room. Maybe you can bring in some of your wicker patio furniture.
Contain Clutter
You don't need to buy modern furniture to update the look and feel of your living room. Sometimes, freshening up means getting rid of the clutter. Or, in some cases, just keeping them contained. You can repurpose baskets and boxes to store papers and magazines and put them on a bookshelf or underneath the coffee table. Just make sure that these clutter-containers match the color scheme of the room, so they don't stand out like a sore thumb.
Create a High-Contrast Living Room
Color and contrast, when used properly, can create a dynamic space. A mixture of bold and subtle colors that complement each other can help you create a modern living room.
Bold Patterns
Bold patterns can bring in dramatic substance to a neutral or monochromatic living room. It adds a burst of color and depth, transforming the space from dull to bright and beautiful. There are lots of living room decorating ideas that involve the use of bold patterns. For example, bold patterned curtains. You can also create a bold patterned slipcover for your sofa or cushion covers.
Add Color With Art
Adding an accent wall is one way to create a high-contrast living room. You can do this by painting one wall a different color. Or, you can add color using art. A gallery wall is easy to accomplish. You can add pops of color through the art itself or even just by using different colored frames.
Use Lighting
You can brighten up your living space by adding new light fixtures. The right lighting can highlight certain areas in your living room. Not only that, light fixtures can be used as statement pieces - not just in the way they look (design) but also due to their color. For example, you can choose a bold-colored chandelier to create contrast in the room. Colored lights can also help add drama.
Create Eye-Catching Vignettes
In living room interior design, a vignette is a group of several objects arranged together to create a curated style statement. You can create eye-catching vignettes to freshen up the look of your space. If these tips aren't enough, you can check living room interior ideas online for more information on vignettes.
Look for a Hero
One way to create a vignette is to choose a 'hero' or the focal point of your arrangement. Think of something that you want to see everyday. Make sure that the 'hero' is a statement piece - one that won't be overwhelmed by the other objects in the arrangement.
Artificial Floral Arrangements
Your vignette can be something as simple as a modern floral pattern or theme. The different elements can include different artificial flower arrangements if fresh flowers are not available. You can have a small vase of pink carnations, a large pot of white orchids, and a picture of a flower in a natural wood frame.
Innovative Thinking
There are plenty of living room styles and creative living room ideas to be found online. However, don't limit yourself to what's already there. Be brave and experiment. Everyone's needs and preferences differ.
Don't Hesitate to Mix and Match
If you want to create a fresh living room, a lot of experts recommend mixing and matching materials or pieces. A combination of different finishes can add textures and depth to a room, making it more dynamic. A mix and match of unrelated pieces can create a more impactful space and make your living room feel unique and personal.
Make Your Own Media Centre
You don't have to do a complete room makeover to accomplish this. Media centers are not limited to large spaces. Small living rooms can have one of their own. You can free up space in your room, contain your clutter and transform your space into a contemporary living room slash family room. To do this, you can get a wall-mounted TV and an MDF panel to serve as a floating shelf. You can store magazines and books on one shelf, maybe some board games on the other. Underneath the shelves, you can place multipurpose storage containers such as drum storage stools.
Hang Baskets to Provide Extra Wall Storage
Got a small space? Make your living room look more inviting by creating an illusion of more space. You can do this in several ways such as adding a mirror and using a light color palette. But if you have too many bits and pieces laying around, you're going to need storage. Adding containers in the room will only make a room look overcrowded and unattractive. Instead, use attractive willow baskets and hang them on the wall. Not only will these free up your floor space, it will also help you create a sort of accent wall or "wall of art."
Create an Everyday Luxury Space
Who wouldn't want to spend time in a luxury living room? Of course, creating such a space means balancing between comfort and elegance. Below are some luxury living room ideas that you can implement.
Choose The Right Color Palette
There are many elements to making a living room look luxurious, one of which is the color palette. Trends come and go but some colors are considered timeless. In general, a luxury living room looks light and airy which means using lighter tones. But elegance can also be achieved through darker tones such as black and gold. A white and blue color scheme is not only refreshing but also classy.
Add Extra Comfort
Luxury and comfort go hand in hand which means you need to add pieces that give off "hygge" vibes. These include throws and soft rugs. You can also include materials that have soft, comfortable textures such as linen and wool.
Conclusion
There are so many living room decorating ideas that it's tempting to try them all. The various designs and styles look beautiful and are awe-inspiring. But you should keep in mind that not all of them will suit your home. Your living room is one of the most used spaces in your home. It needs to be a space that you will enjoy using and living in. While our tips and tricks on how to decorate a living room will help, you should only add pieces that you'll truly love.