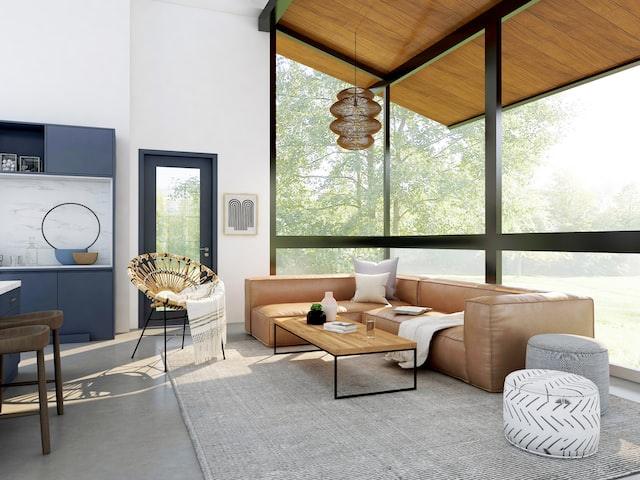 8 Minimalist Interior Design Ideas for Modern Homes
Clean. Serene. Peaceful. It's easy to see the appeal of minimalist interior design. Defined by a neutral color palette and fuss-free lines, this modern interior design style is enduringly popular.
Taking its cue from Zen philosophy, the minimalist design embraces a "less-is-more" ethos, eliminating unnecessary clutter so that you can focus on what's important. However, this doesn't mean that minimalistic interiors are cold and unwelcoming. Quite the opposite, in fact. By combining colors carefully and playing with light, texture, and accent pieces, you can create a minimalist living space that's as comfortable as it is beautiful. Here's how to get started.
1. Stick to a Monochrome Palette
Choosing a monochromatic color palette is a great way to achieve a minimalistic interior. The trick is to pick a single color and then roll it out in different levels and textures across your living space. For example, you could use a very pale beige on the walls, deeper oatmeal color for a modern carpet, and perhaps more of a gray taupe for furniture. By sticking to a monochrome palette, you'll create a sense of unity in any room.
2. Use Muted Colors
Beige, cream, dusky blue, gray-green… There's a reason why minimalist house interior designers choose muted shades over bright colors when creating a minimalistic living space. While color pops and clashing prints create intrusive visual noise, quiet shades have a more soothing effect on your space. By dialing down your color palette, you'll achieve a chic, contemporary environment that's restful to the eye.
3. Choose Your Furniture Wisely
Minimalist house interior design is characterized by an absence of unnecessary decoration, and that applies to individual pieces of furniture as well as the room as a whole. So look for modern pieces with elegant lines and proportions that will sit nicely in the space without overwhelming it. Surfaces are important, too: Choose furniture with flat surfaces over fussy detail for a clean, calming feel.
4. Utilize Natural Light
Nature and simplicity are both keys to achieving a modern minimalistic interior – so what better way to make your space more inviting than by flooding it with natural light? Make the most of any windows or skylights, for example by choosing blinds over curtains to allow the light to flow in. And for those times when you have to turn the lights on? Choose soft and warm decorative lighting to maintain the natural feel.
5. Open Up the Overall Living Space
Minimalist interior design is defined as much by what you leave out as what you choose to include. Have a decluttering session before you begin – the more ruthless the better! Then, when you are left with only those possessions you can't bear to part with, keep them out of sight with discreet storage solutions such as built-in cubbies or beautiful boxes to maintain a tranquil decor scheme. Think about the layout, too. It's easier to create a minimalist atmosphere in a light-filled, open-plan space than in a series of small rooms, so you may want to consider knocking through a wall or installing sliding doors to open up your living space.
6. Go Green
Houseplants are a key feature of modern interior design styles, and they sit beautifully with a minimalist design aesthetic. Simple and natural, plants and greenery break up the space in just the right way, providing a natural focal point that will blend in with your muted color palette. Plus, of course, they work to purify the air in the room, contributing to the overall sense of peace and tranquility.
7. Invest in Quality Items
The fewer items of furniture you have in your space, the more each one counts. Look for elegant silhouettes, beautiful textures, and great-quality materials to make sure that every piece earns its place in your room. The quality of cushion covers or the graceful lines of a coffee table can make all the difference between an interior that feels cold and empty, and one that balances serene minimalism with warmth and comfort.
8. Finish with a Statement Decor Piece
While minimalism is all about decluttering, it would be a mistake to avoid decoration altogether – you need something to add interest and make a room feel lived in, and a single accent piece, such as a modern sculpture is all it takes to elevate your space. You might want to play with scale and add an oversized light fitting to introduce an element of surprise; or why not use a piece of bold wall art to draw the eye?
Inspired to embrace the minimalist aesthetic? By paying attention to color, eliminating the clutter, and focusing on a few key details, you can create a light-filled, Zen-like interior with a thoroughly contemporary twist. Follow our minimalist interior design principles to transform your living space into a modern oasis of calm.