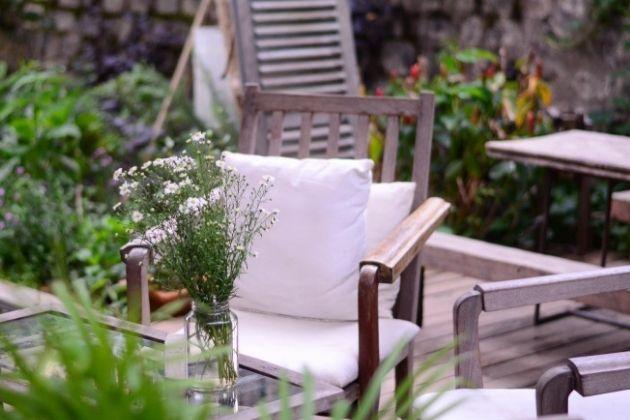 Small Patio Décor Ideas: How to Make a Small Patio Feel Gigantic
How to decorate a small patio so that it works as a magical outdoor retreat? Our small patio décor ideas will help you make the most of your backyard space, with all the furniture and accessories you need to turn an unappealing slab of concrete into a welcoming haven that's bursting with life and personality.
With a little flair and imagination, you can transform even the smallest outdoor space into a beautiful patio that becomes your own private escape. Whether you're looking for patio ideas on a budget or the latest outdoor furniture inspiration, here's how to create an urban oasis with our small backyard patio ideas.
Embrace Coziness to Create Your Retreat
The central idea for patio design is to conjure a feeling of privacy: a soothing escape from the world, or your own exclusive party venue. That's why our favorite backyard patio designs feature cozy accessories and lush greenery to screen out the outside world. It's an outdoor space design that transforms your backyard into an extra room in the house.
Build a Small Fountain for a Restful Soundscape
How to design a patio to make it look and feel bigger? Our design experts recommend adding a standout piece: one dramatic feature to draw the eye and provide a focal point for your space. A small fountain will do the job beautifully, and the soothing sound of the water will help drown out any noise coming from your neighbors' backyards too, giving you a feeling of privacy.
Create Greenery to Make a Screen
All nice patios have one thing in common, and that's greenery — and if you choose the right plants and flowers, you can create the illusion of a bigger space. Real Simple recommends creating a cozy patio by laying a path through your plant beds and then adding tall trees at the end. Alternatively, go low maintenance with a container garden.
Hang a Hammock for the Ultimate Escape
There's nothing like an outdoor hammock to put you in a vacation frame of mind. With a hammock patio, you'll have a ready-made escape waiting for you at the end of a hard day; just settle in, shut your eyes, and feel your cares drift away. Plus, of course, a colorful outdoor hammock is a great way to add a pop of personality if you're looking for patio décor on a budget.
Boost Privacy in Your Urban Oasis
Can't face a daily chat with your neighbor? We hear from you. Luckily, it's easy to separate your backyard with the help of a few well-chosen plants. Plant climbers to grow up walls, fences and trellises, add hanging baskets and tall, slim trees, and you'll create an effective — and beautiful — screen for your private retreat.
Pack a Punch with Home Interior Accessories
When you think of your patio as an extra room in the house, the possibilities really start to open up. We love outdoor patio ideas that incorporate designer home accessories like decorative lighting and cushion covers because they transform your backyard into a welcoming hangout for entertaining.
Get Cozy with Cushion Covers
Piles of comfy cushions in different shapes and sizes will create an inviting space for friends and family in an instant — and they're a great way to add a splash of color to create a fun and festive feel in your backyard, too. Pull your patio décor theme together with decorative cushion covers that harmonize with the colors of your flowers and plants.
Set the Mood with Decorative Lighting
Of course, we don't recommend it. But there are plenty of other ways you can create an inviting glow in your outdoor space, from candles in decorative candle holders to paper lanterns and string lights.
Introduce Decorative Vases
Home interior accessories don't come much more versatile than designer vases. A statement vase is an easy way to pep up your outdoor table to introduce color to your dining area when you're entertaining.
Get Creative with Patio Furniture Combos
Furniture is key when it comes to small patio décor ideas, and the right tables, chairs, and ottomans can help maximize a small space and bring it to life. While we all love a wrought iron bistro table, don't feel that you have to stick to the classics. Add a contemporary vibe to your deck with our patio furniture ideas. 
Have Fun with a Statement Sofa
Sure, outdoor furniture ideas tend to be on the practical side — there's the weather to think about, after all. But we can't help falling for a chic outdoor sofa. Be bold with prints and patterns (think plaids, florals, and joyful polka dots), and choose one of our shower-resistant cushions online that can withstand a little drizzle. Alternatively, dip a toe into DIY patio furniture when you add your own cushions to an outdoor bench for a comfy sofa vibe.
Keep it Simple with Wooden Chairs and End Table
Small patio décor ideas don't have to be fancy, and cool garden furniture can be as simple as two wooden folding chairs with an end table in the middle so that you can move them around easily to follow the sun, and enjoy a cool drink on a hot day. Cedar chairs make great outdoor furniture ideas as the wood is durable in outside conditions.
Pair a Bench with Barrel Tables
Simple and affordable, pallet garden furniture is one of the classic garden furniture ideas — but it doesn't have to be boring. Try pairing a pallet bench with an assortment of barrel tables in different sizes to create casual, inviting space for family and friends. 
Express Yourself with DIY Patio Decorations
Fancy finding your flow? We've rounded up some patio design ideas that will get you flexing your DIY muscles. From simple projects like making your own planter box to more complex serving stations, here's how to create DIY patio decor that will add a personal touch to your outdoor retreat. 
Get Started with A Planter Box
Seeking an easy DIY patio project to get you going? A planter box makes a great DIY backyard patio accessory that you can customize as you please. Choose an outdoor-friendly wood such as cedar, and let your imagination run free.
Build your Own Amphitheater Patio Deck
If you're looking to create a cozy feeling on your deck, a DIY patio cover makes a great solution. Constructing a wooden pergola or amphitheater for your backyard is not a short term project, but when you're chilling out in your private outdoor retreat, we think you'll agree it was worth it. 
Make Entertaining Easy with an Outdoor Serving Station
DIY patio furniture can really help you make the most of a small outdoor space. We love this idea for a box shelf with a serving station where the table folds out to save you valuable space on your floor. When the party's over, simply fold it closed again until the next time you have guests.
When you're on the hunt for patio accessories ideas, the key is to treat it just like any other space in your home. Bring your personality to space and fill it with vibrant colors and patterns to make it an inviting venue for an outdoor celebration, as well as a soothing oasis when you need to get away from it all.