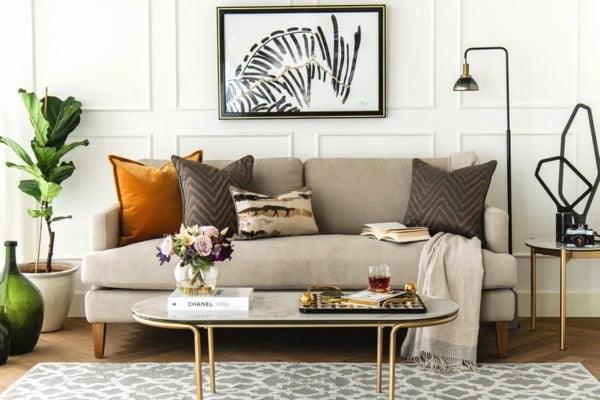 The Basics of Decorating in Contemporary Style
What does contemporary style mean to you? If the phrase makes you think of something cold and minimalist, then it's time to reconsider. Sure, décor in the contemporary style is all about cutting down on the clutter — but that doesn't mean it can't feel warm and welcoming, too. The secret? You don't need a lot of things to turn your living room into a stylish, comfortable place to hang out; these days, it's all about letting space speak for itself.
Here at Knot Home, our interior designer Faizah believes in creating fresh, inviting living spaces that showcase your own personal style, and it's easy when you know what to focus on: clean lines, a modern color palette, and plenty of texture. Whether you live in an airy loft apartment or a traditional family home, follow Faizah's simple style rules to achieve the contemporary style room you crave.
#1 Choose the Right Color Scheme
There's actually a formula to this — and it's pretty simple to master. A neutral color palette is a key to contemporary style design, so think about subtle tones of ecru, putty, beige, cream, and grey, as well as black and white. (We do love black in particular to ground and define a living room). Then, once everything is blending nicely, you can throw an unexpected pop of color into the mix. Make a statement with a side table, or a pillow, in a bright color, and then arrange a few coordinating accessories nearby — not too many, though; you don't want to overdo it. 
Which accent colors to go for? Teal and orange are catching the eye right now, and you'll love these cotton velvet cushions in icy blue and mustard. Whatever you choose, the trick is to keep the bold and the neutral in balance. "With walls painted in a basic neutral, you have a wonderful backdrop for bold colored accessories," explains Faizah. "If the wall is a bright color, neutrals should be used everywhere else".
#2 Go Big and Bold for Contemporary Furniture Style
Here's where you get to make a statement. Contemporary furniture is all about strong, geometric pieces — with absolutely no room for clutter. There's no place in the modern living room for frills, fringing, and other fripperies; carvings are a no-no, and cuteness will not be tolerated. "Less is more!" warns Faizah.
What does this mean in practice? Think about chairs and ottomans with exposed legs, smooth side tables in graphic silhouettes, and generously-sized sofas in neutral tones. But while we're big fans of keeping things bare, the overall effect is anything but cold. Look for upholstery fabrics like wool, silk, cotton, linen, and jute, whose natural fibers will lend some welcome texture to your sofas and chairs, and add another level of texture by getting one of our favorite bundles of cushions online.
#3 Modern Flooring Ideas for Your Space
So you know how we talked about clean lines and an uncluttered feel? That applies to your flooring, too. When you walk into a contemporary style living room, the floor should feel bare and smooth underfoot — no fussy carpet here! Wood, vinyl and floor tiles are all ideal.
That's not to say that you can't have some fun with your flooring. Complement your color scheme with a plain or geometric rug to add color and texture. We love what happens when you place a large patterned rug in front of the sofa — it immediately pulls the whole area together, creating a real focal point in your living room.  
#4 Light Up Your Living Room
When you're distracted by the bigger furniture choices, lighting can become a bit of an afterthought. But, says Faizah, "Choosing the right lighting can be just as important as choosing your sofa, coffee table or rug. And this is where statement lamps can take the floor."
What to look for? Lighting should be strong and linear in shape: The graceful silhouette of this sleek floor lamp, in metal with a concrete base, is an easy way to punctuate your living room. Think of a lamp as a piece of art, and seek out sculptural forms in wood, glass or metal. With a frosted glass sphere atop rich black marble, this table lamp imparts a beautiful glow in your living room; while the unexpected proportions of this hand-blown glass lamp will enhance any contemporary space. 
#5 How to Make Your Wall Art Look Modern
The artwork is a key component of contemporary style interior design — but it's not just about the wall art itself; the frames you choose are just as important. Faizah recommends sleek, minimal frames in high-gloss, matte black, wood, or metal finish to work with your modern décor.
As with everything else in the world of contemporary style, less is more. So resist the temptation to cram your walls with every single painting or photograph that you own; it's essential to leave plenty of open space so that the individual artworks can shine. But if you do have a few pieces of art that you'd like to display, then make sure to group them close together to create the look of one large, unified piece instead of a scattering of smaller ones.
#6 The Scoop on Contemporary Cushions
Looking for an instant update? There's no quicker way to give your living room a lift than by adding a trend-led cushion to your décor. Remember, though, that contemporary style is all about simplicity and restraint, so steer clear of anything with a busy, fussy print, and don't introduce too many different colors.
"Two-tone prints work well," says Faizah. "Think about a big chevron print pillow on a white fabric sofa."
Faizah is also a big fan of mustard as an accent color right now. With a pre-curated decorative pillow package mixing neutral tones and bright, you'll get the perfect balance of color and texture to complement your color scheme.
#7 How to Do Accessories Without Overdoing it
From tall glass vases to ceramic jars, small statues, and decorative paperweights, a few well-chosen accessories can do a lot to enhance a contemporary style room. The rules? Stick to colors that complement your color scheme: Matte black always looks sleek, and gold accents will luxe up any decor. Focus on quality pieces in beautiful materials like glass, wood, metal, and natural stones. And whatever you do, don't over-accessorize. "This can make a room feel cluttered and overwhelming," says Faizah.
When you choose pieces like this playful sculpture or these decorative bookends, they will pack way more of a punch if you give them room to breathe in a calm, uncluttered space.
#8 The Perfect Way with Plants and Flowers
Plants and flowers are essential if you want to create a relaxing feel in your living room. How to make them a part of the contemporary style decor? The key is to think big and bold. Forget about fussy floral arrangements and small bunches of wildflowers dotted here and there; instead, create a dramatic focal point with oversized blooms and interesting leaves. Simple containers like this white ceramic vase work best.
If you have space, think about highlighting your blooms by placing upward-facing lights around a pot on the floor to enhance the drama. Finally, make sure to keep your plants and flowers tidy to dovetail with the clean, simple lines of your contemporary living room. Faizah recommends covering the soil with bark or pebbles — a small detail that makes such a difference.